Inspiring and connecting MDRT Members around the globe
UX Strategy Lead and Product Owner on a multi-year product engagement for MDRT crafting an app for their 72,000 Member base.
UX Strategy, UX Product Owner
Million Dollar Round Table (MDRT) is a global, independent association of more than 72,000 of the world's leading life insurance and financial services professionals from more than 500 companies in 70 nations and territories. MDRT wanted to deliver compelling content to their large international member base and turned to our team to help them develop the MDRT Member app in 2017.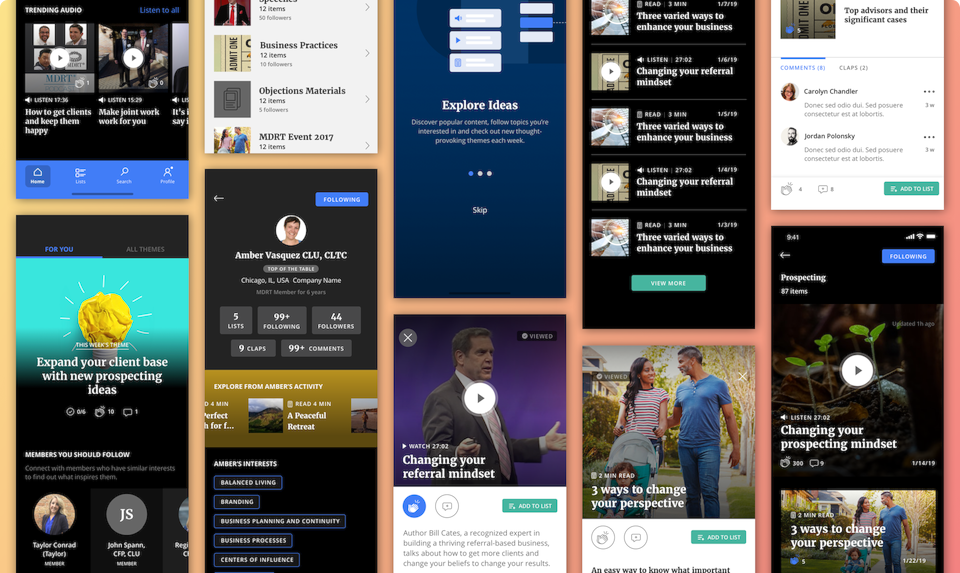 App screens
By employing workshops, multi-day user research studies, feature prioritization, and roadmap planning as well as gaining an understanding of the financial services industry we were able to create a long-term multi-year engagement plan that created an app that delivers custom created content to Members. Our team consisted of small agile working groups that quickly delivered on features in 2-week working sprints. Using story mapping to plan and prioritize our roadmap we were are able to engage our client in feature requests and backlogging and balance user needs over time.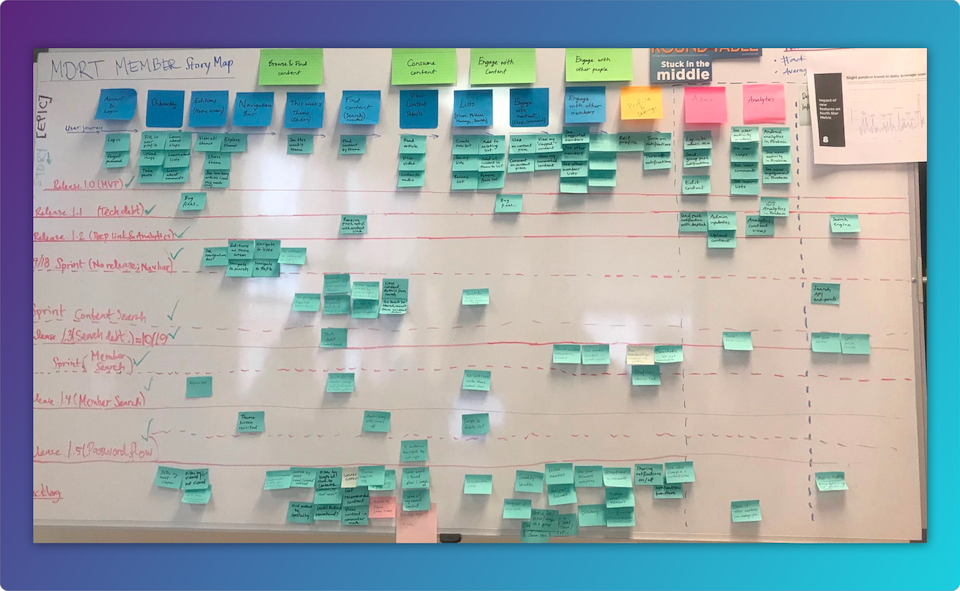 Using the storymapping technique helps up to plan and keep track of upcoming releases. This map is also duplicated in Jira.
Over the past 18 months, our roadmap has grown to include new features such as connecting Members, utilizing machine learning to deliver more concise content, and enhanced onboarding and login flow. By incorporating consistent user testing and reaching out to the Members at association events we have been able to meet Members where they are and learn about the features that would be most meaningful and impactful for them, thus creating a long-term engagement with our client.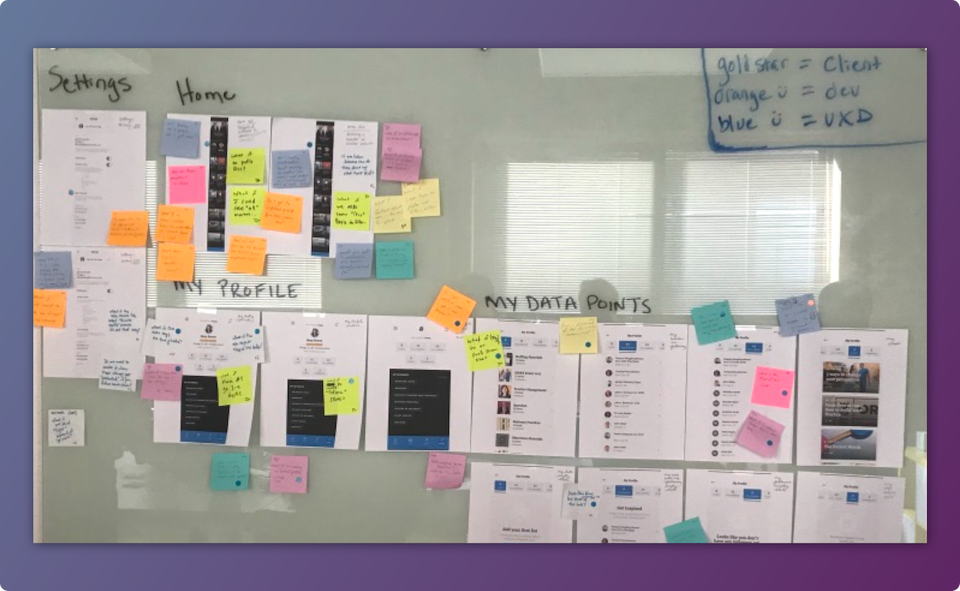 What-If sessions are new internal workshop we pioneered in-house to help our UXD and devs team begin to "poke holes" in upcoming sprints.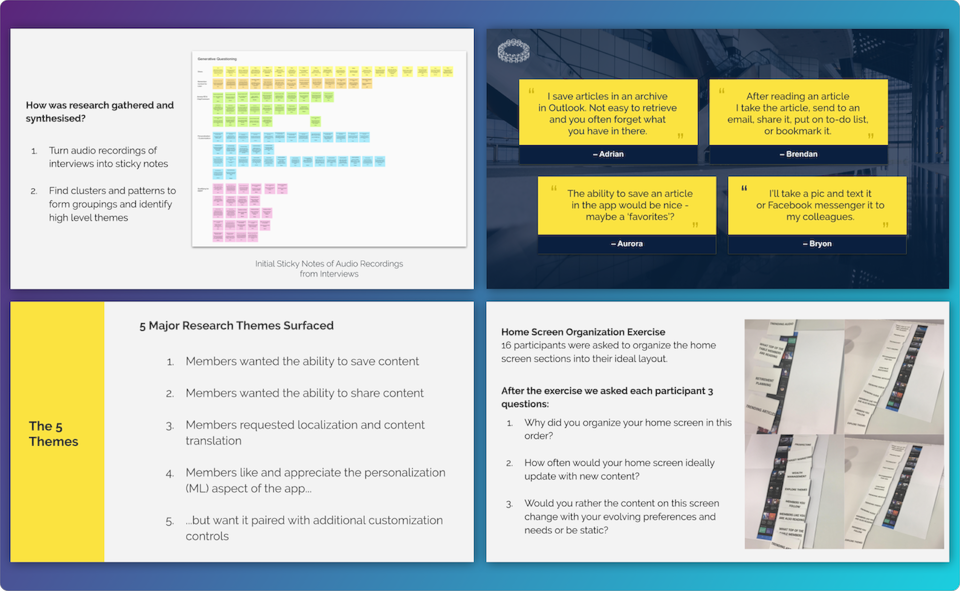 How did we back up our work with research?
Throughout the project, we ran multi-day research trips that met with the user base at conferences to interview them based on future needs, current usability pains & gains as well as performing prototype validation experiments to test out future planned releases. We presented findings to the client and aligned user needs in our findings with planned business needs to keep building out our roadmap.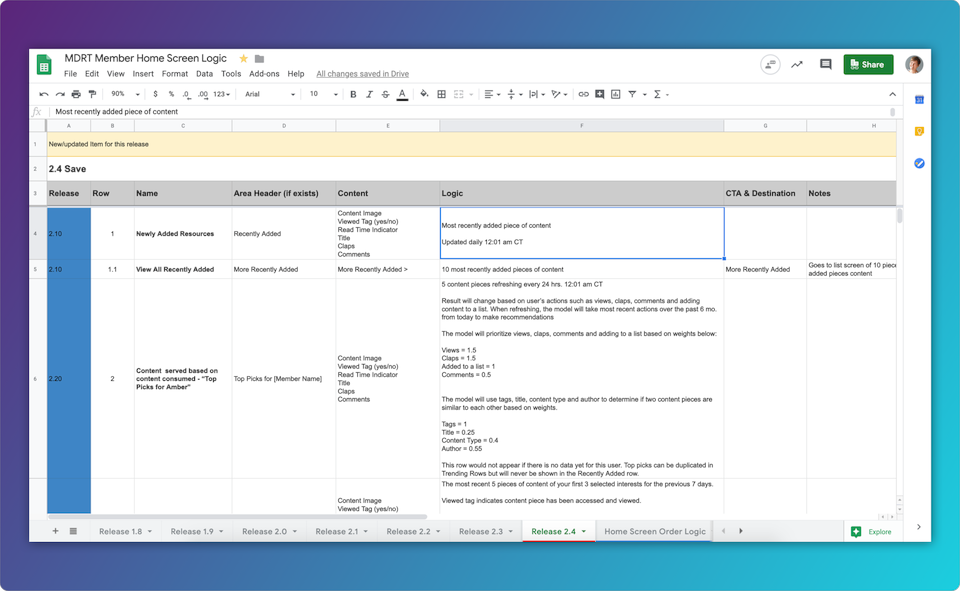 How did we track long term logic over shifting priorities & sprints?
The home screen contained rows and rows of custom logic that required us to keep track of 2 years worth of decisions. By creating a spreadsheet for all our teams to access when we needed to make decisions about additional logic we were able to solve the problem of "how does that row function?" questions easily and give everyone access to information that once felt like it only lived in someone's head.
Project Members
PM: Diana Masterson, Anna-Mi Fredrikssen
Design: Teresa Jimmerson, Alyssa Low
UX/Strategy: Amber Vasquez, Mary Brown